BOOK REVIEW:

On Nona Faustine's "White Shoes"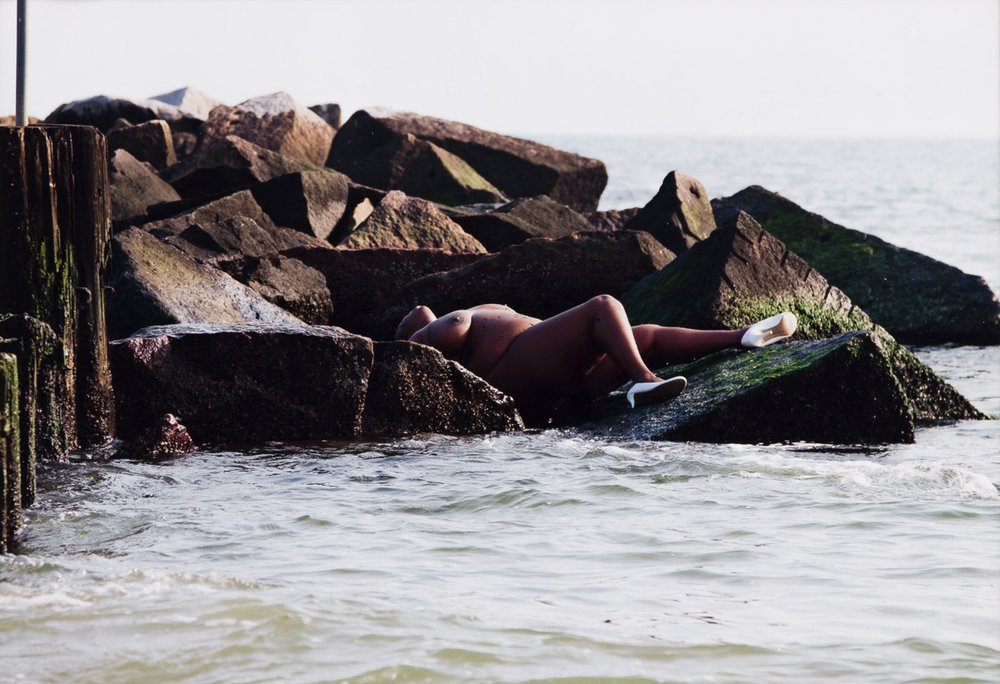 Like A Pregnant Corpse The Ship Expelled Her Into The Patriarchy, Atlantic Coast, Brooklyn, NY, 2012
One could describe Nona Faustine's White Shoes as a series of self portraits on former sites of slave trade around New York. While this would, in fact, describe Faustine's latest work, the photographs in this new book by MACK aren't just that. Nona Faustine's photographs are a record of profound happenings—her body acting as a portal to the ancestral lives of African Americans, from the slaves traded on Water St. to the free Black community of Seneca Village. As Faustine mentions in her interview with Jessica Lanay, "radical feminism is absolute freedom," and White Shoes brings Faustine's irrefutable freedom to the places where African Americans lived, died, and were buried.

In my hands the book feels substantial. It's large and square, with the artist's unclothed (but for white shoes) body on the cover, printed in a warm halftone pattern. Her body—a detail of the much larger image—contorts in a show of force against a massive white, Greek-style column, the artist's hands pushing bare on the weighty volume. Symbolic in more ways than one, this photograph pictures the undercurrent of Faustine's work perhaps in the clearest of ways. Her brown, soft, and expressive body stands in stark contrast to the rectilinear, oppressive architecture of institutions designed to be unmoved. As Seph Rodney points out in his essay, "with what kind of weapon should one arm oneself against such an enemy which is ephemeral and almost anywhere, and in its most insidious form merely implicit rather than declarative?" Against the backdrop of palaces of erasure that stand on the graves of the Black women, men, and children who built them, Nona Faustine's body is utterly, unmistakably, impossible to ignore.
The white shoes, described by Rodney as "proper Black lady pumps, ones you'd envision being worn to church by a Black woman on Easter Sunday," stand for the white patriarchy, according to Faustine, as well as pointing to femininity. As the book progresses, Faustine transitions from being undressed to slowly becoming clothed—from simple shawls, to a loose white skirt and top, to a variety of hats and props, and finally culminating in a glittering gold cape that echoes the artist's name foil-stamped on the cover of the book. Unchanged however remain her defiant, deadpan stance and the white shoes. This progression acts as a reminder of the hard-earned freedom that exists still on a bedrock of white supremacy and patriarchal institutions which are a constant in the daily lives of Black Americans, as symbolized by the white shoes. Similarly persistent though, has been the defiance, heroism, and perseverance of African Americans, reflected in Faustine's skilled reclamation of her naked body—once a sign powerlessness now a sign of resistance. As Rodney notes, Faustine "is battling an entire (United States-based) cultural script that generally favors an attitude of historical amnesia, resents having to learns anything new, idealizes the nation's founders despite their white-supremacist ideologies, is intellectually both impoverished and dishonest, and most often ignored Black people, particularly Black women, outside of contexts in which they are not providing entertainment."

The sequence opens with Faustine's body strewn upon a pile of rocks on the shore, her white shoes glistening against the dark, wet, mossy boulders. The woman in this photograph looks both like a sun-bathing madonna, suspended and weightless, and like a corpse washed ashore, heavy and lodged. Later we encounter variations on the theme, Faustine is seen wearing a mask, sporting a belt of white baby shoes, carrying pots and pans, and wielding a pistol, echoing the likes of Harriet Tubman, who once said, "'There are few markers left but your black body is the marker. The land does hold the memory of your existence. You only have to put it there in its natural state to remember." This quote is also the title of an image in which the artist lounges confidently on an idyllic lawn, wearing a white dress and a big summer hat. Her bare back is to the camera, but her body and gaze confront Sylvester Manor, a quaint yellow house in Shelter Island, NY, on a plantation once worked by enslaved Africans.

I think of Faustine's work in conversation with contemporary artists such as Carrie Mae Weems, Dawoud Bey, and Carlos Martiel. In The Museum Series, Carrie Mae Weems stands, with her back to the camera, in proximity to some of the world's leading museums and cultural institutions. The resulting images act as ruminations on the collecting and exhibiting practices of these sites. Dawoud Bey's most recent work imagines the flight of enslaved Black Americans along the Underground Railroad—the images imply the perspective of the individuals whose invisibility was requisite for their safety. Carlos Martiel's performance works transform his body into a temporary monument, often undergoing pain and extreme physical stress. Martiel's body under duress functions as a conduit for the histories and lived experiences of the Black body. His most recent presentation at the Guggenheim Museum in New York City placed his body on a platform on museum's rotunda, his hands shackled behind is back, echoing Faustine's 2013 work titled From Her Body Came Their Greatest Wealth, Wall St. Like in Fuastine's work, Martiel's naked body in a space built for whiteness makes visible the artist's concerns with invisible power structures.

They Tagged The Land with Trophies and Institutions From Their Rapes and Conquests, Tweed Courthouse, NYC, 2013