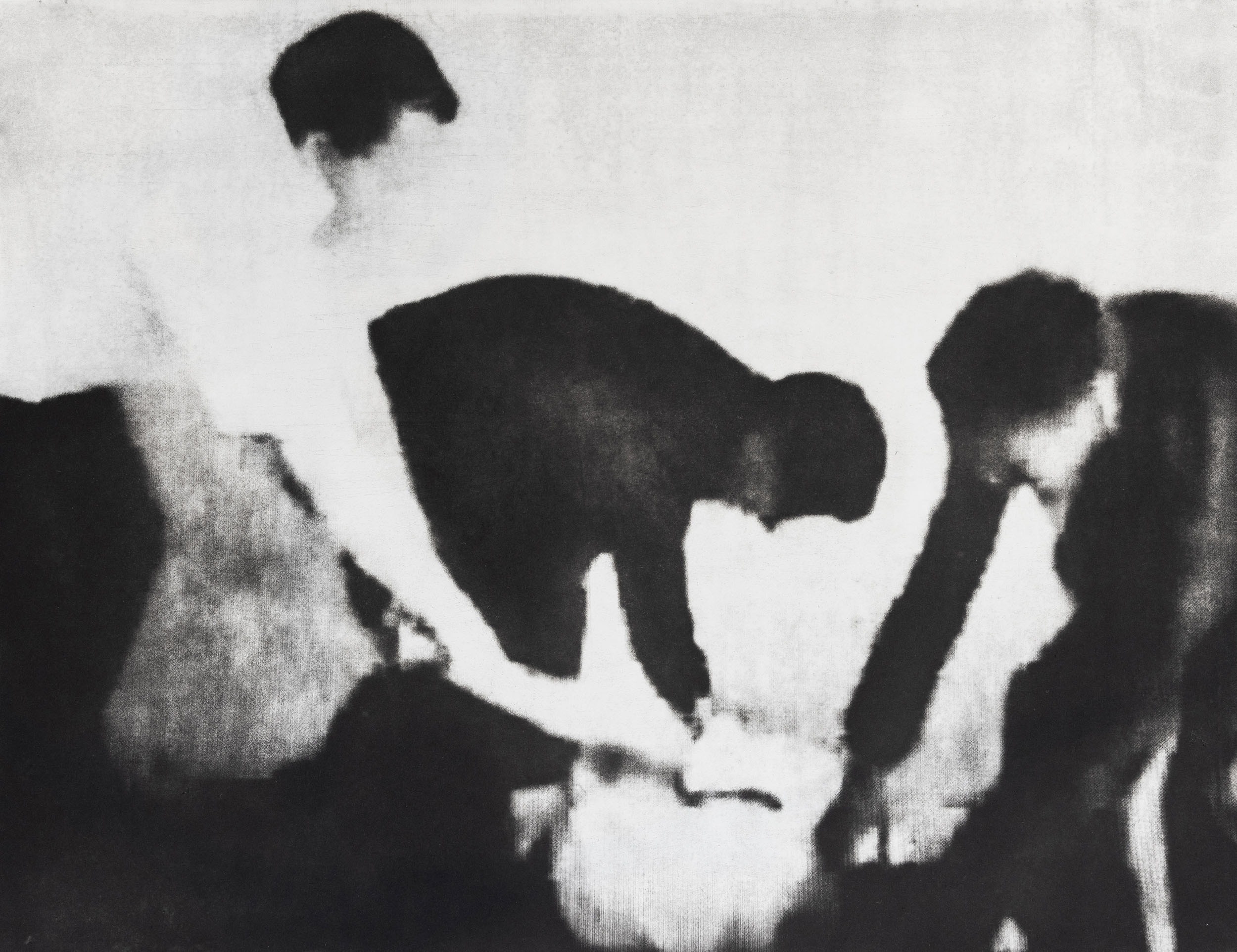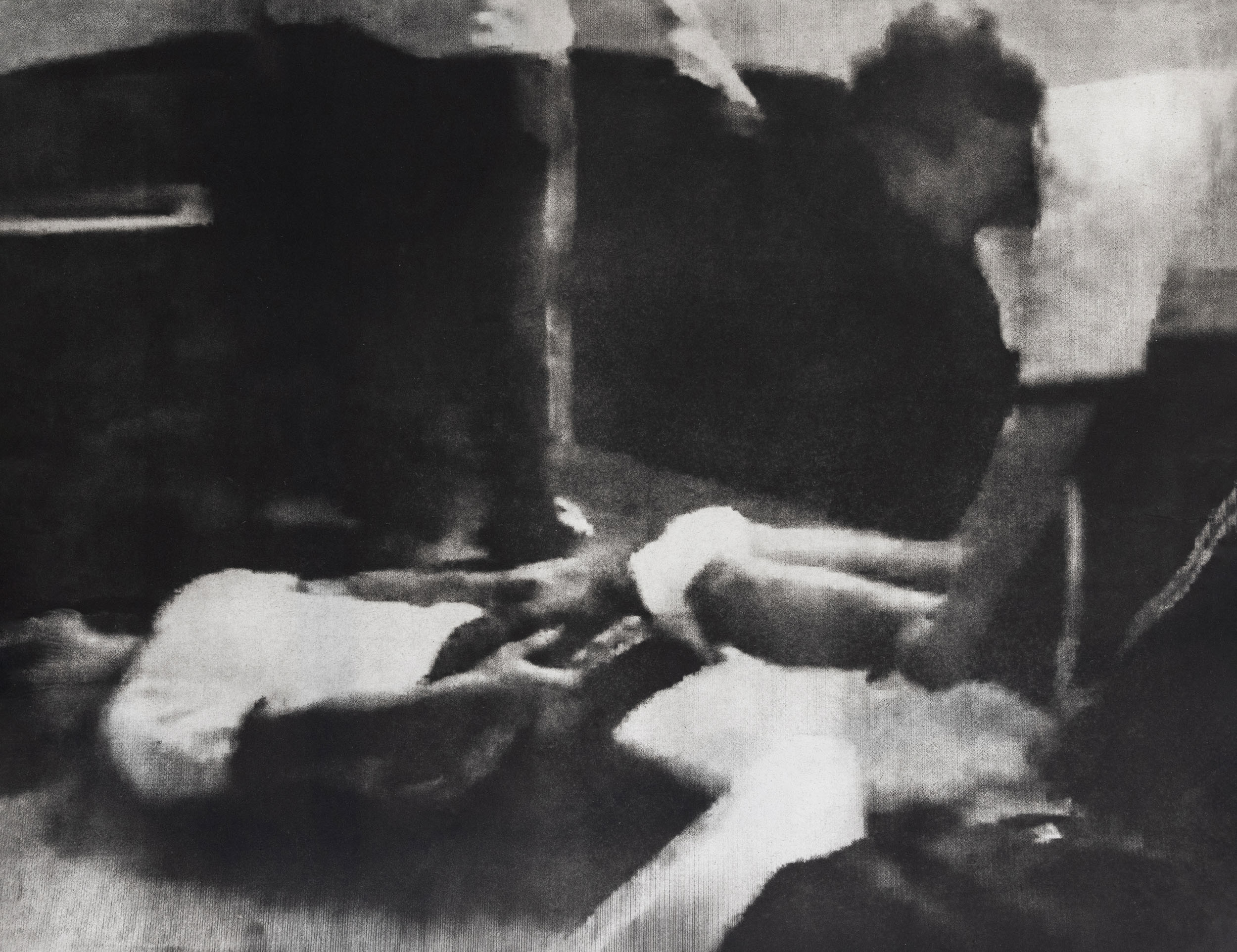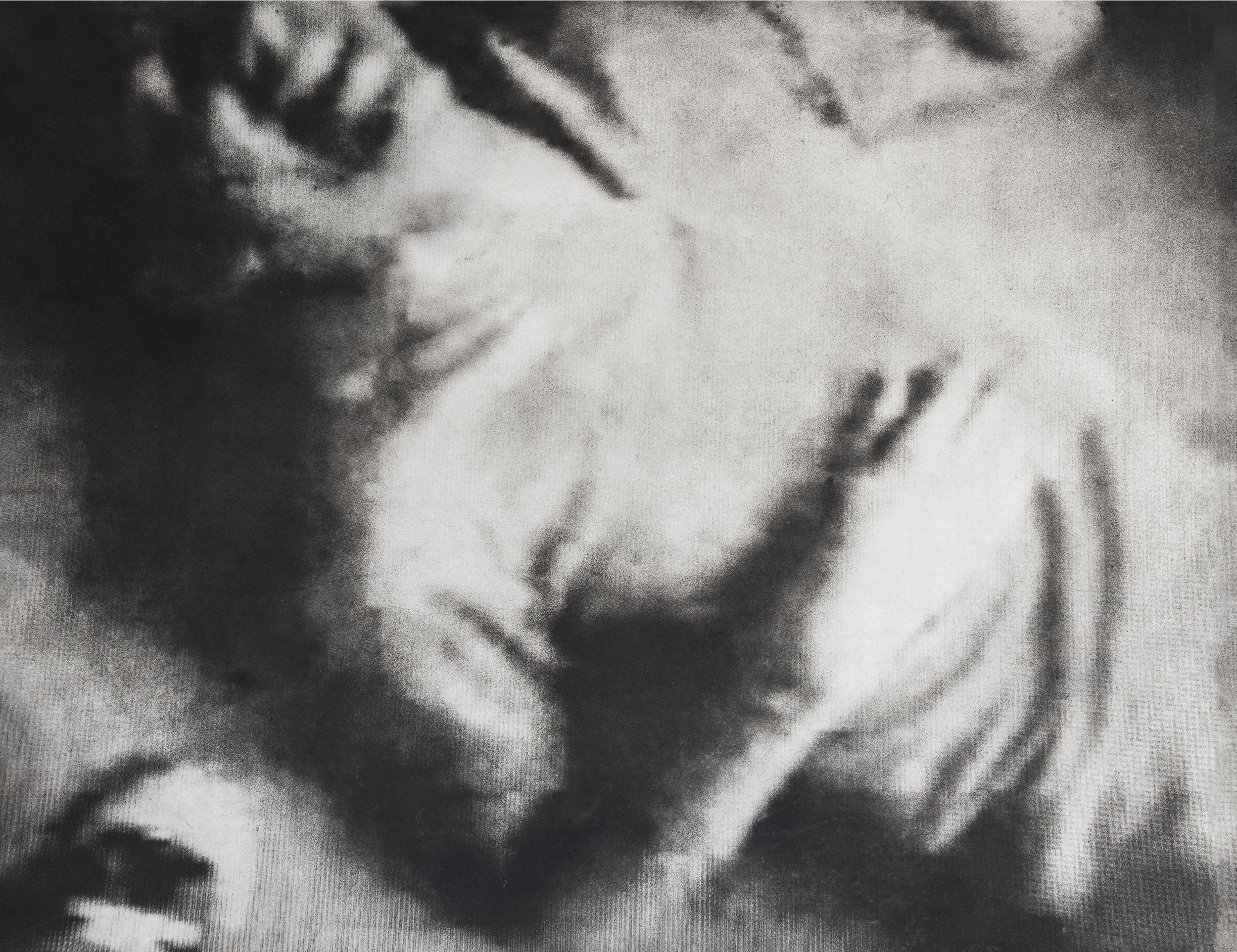 CARGAMONTÓN, 2022, Aquatint Photogravure, 27 x 35 inches
STATEMENT
CARGAMONTÓN is a portfolio of eight [8] large-scale aquatint photogravures probing masculinity, intimacy, violence, and rite.

The works depict adolescent horseplay that hovers between bullying and homo-erotic self-discovery, reflecting on my experience growing up as a queer youth in an all-boys Catholic school in Perú. Cruel rituals were common, including 'Cargamontón,' an act wherein a group of schoolmates pig-piled atop a boy, smothering him under a crush of bodies in order to subdue and humiliate him.

The source images stem from found footage of violent and oppressive rites performed by school boys, filmed and posted to the Internet by Peruvian teens in the early 2000s. The moving image is transformed into a digital still frame, which is then etched onto copper plates to create aquatint photogravures, produced in collaboration with master printers in Mexico City. The 19th-century process transforms a low-fidelity digital file into an enormous and elegant print, with an organic and tactile quality that brings a contemporary edge to a historic process. The result is a fabricated cinematic frame sequence akin to an obscure memory, depicting bodies vacillating between torture and pleasure.

This work is both a commentary on my personal experience navigating queerness and desire as young man in a toxic landscape plagued by homophobia, and on Latin America and its complicated relationship to masculinity, intimacy, and violence.
CARGAMONTÓN es un portafolio de ocho (8) heliograbados al aguatinta en gran escala que indagan sobre la masculinidad, la intimidad, la violencia y el rito.

Las obras presentan imágenes de juegos adolescentes, a caballo entre el bullying y el autodescubrimiento homoerótico, lo cual refleja mi experiencia como joven queer que asistió a una escuela católica para varones en Perú. Allí abundaban los rituales crueles, entre ellos el "cargamontón", donde un grupo de compañeros se tiraba encima de un niño aplastándolo bajo un montón de cuerpos para dominarlo y humillarlo.

Las imágenes provienen de grabaciones encontradas que registran ritos violentos y opresivos realizados por alumnos, filmados y posteados en Internet por adolescentes peruanos a principios de la década del 2000. La imagen en movimiento se transforma en un fotograma digital, que luego se graba sobre planchas de cobre para crear heliograbados al aguatinta producidos en colaboración con maestros grabadores de la Ciudad de México. Este proceso decimonónico transforma un archivo digital de baja fidelidad en una elegante estampa de gran tamaño con propiedades orgánicas y táctiles que aportan un toque contemporáneo a un proceso histórico. El resultado es una secuencia cinemática fabricada que se asemeja a un vago recuerdo, en el que vemos cuerpos oscilando entre el placer y la tortura.

Esta obra supone tanto un comentario sobre mi experiencia personal como joven que debió explorar su condición de queer en un entorno tóxico plagado de homofobia, así como sobre Latinoamérica y su compleja relación con la masculinidad, la intimidad y la violencia.
INSTALLATION VIEWS